8th Conference for Health Care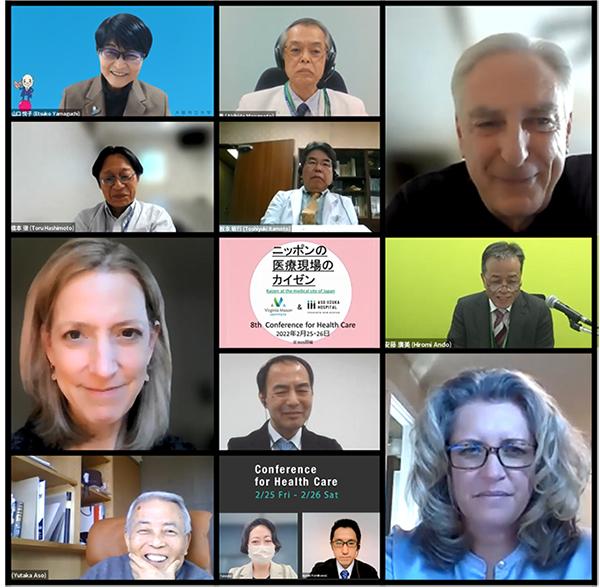 The 8th Conference for Healthcare was going to be held in Tokyo, in November 2011. However, it was delayed over a year due to the influence of COVID-19.
In February 2022, with the help of our sponsor, the 8th CHC was held online for the first time. There were 130 participants from healthcare organizations and companies both domestic and overseas.
In addition to the annual keynote session of Gary Kaplan(Virginia Mason Franciscan Health) and Yutaka Aso (Aso Corporation), Somer Shields and Ingrid Gerbino of Virginia Mason Institute (hereinafter VMI) gave speeches. Specific cases were presented by Toyota Memorial Hospital, Hiroshima Prefectural Hospital, Kurashiki Central Hospital, Osaka City University Hospital and Iizuka Hospital. The following topics were subject to lively discussion during the 2-days.
Application of the TOYOTA WAY to healthcare
Various facets of leadership and training
Management systems for work if in the face of difficulties
Learning organizations and the importance of continuous improvement
Organizational management and alignment
The significance of building processes
Structure of AUDITs leading to improvement
What should the education of quality management in healthcare be?
Process management of and IT
This was a precious opportunity to learn of VMFH is continuing efforts to evolve and how to grasp these changing times and make decisions.
Main Presentations
(Presenters' affiliation)
Total Quality Management (AIH)
Application of TOYOTA WAY by QC Circle in Hospital (Toyota Memorial Hospital)
Systematizing Leadership using World Class Management (VMI)
Leadership in the Hiroshima Prefectural Hospital During the COVID-19 Pandemic (Hiroshima Prefectural Hospital)
Using World Class Management for Strategic Alignment (VMI)
AIH's Mid-to-Long-Term Plan and Annual Business (AIH)
What's OODA loop? (AIH)
Value Stream Mapping and COVID 19 AMAZON Supervax Clinic: A Virginia Mason Production System Story (Virginia Mason Franciscan Health)
Value Stream Mapping (AIH)
Quality and Safety of Medical Care in JCI-accredited hospitals (Kurashiki Central Hospital)
ISO Activities at Iizuka Hospital (AIH)
Osaka City University Learning of Quality Management System : Postgraduate education program of TQM/Kaizen producing an environment for "learning-leading development". (Osaka City University Hospital)
Automatic creation of nurses work rosters using AI (AIH)